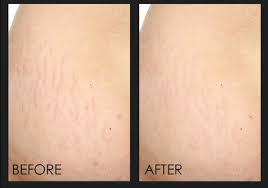 Whether you are male or female and whether they appear on a part of the body that keeps them hidden, stretch marks are likely to bother you tremendously and thus, you would want an effective way to get rid of them.
"Stretch marks" is a self-explanatory term and just like its simple name, its causes are simple too. They appear because our skin comprises of an elastic tissue that is called elastin. Nevertheless, this particular tissue has limits to how far they can remain intact. Once your body and skin experience pressure more than they can handle, it results in the formation of stretch marks.
The reasons for excess pressure on skin range from rigorous exercising -such as weight lifting-, sudden fluctuation in body weight, rapid growth and spanning to genetic disorders and the physical stretching of the skin during childbirth. These marks can be red or purple and they essentially appear on either your abdominal area or thighs or even parts like breasts, arms and lower back.
Nevertheless, once formed, these marks are there on your body to stay. Eventually, they become lighter and hence, less evident and marginally fade away. Due to their unpleasant appearance, however, you will want to pretty much rid yourself of these as soon as possible.
And, let's face it; most of us want to implement home remedies as they are simply natural tips and tricks due to which we surmise these to be the safest way out.
Natural Remedies
Aloe Vera is a herb that is renowned for its ability to heal skin. Thus, it is an efficient therapy for various skin problems. This famous herb is rich in collagen which, when weakened in your skin, leads to the formation of stretch marks in the first place.
Therefore, in order to utilise this natural and supremely beneficial remedy, it is recommended to use the gel that is acquired from aloe vera's leaves and apply it on the affected areas. You can leave it on for fifteen minutes to two hours depending on how fast you want your marks removed and then, remove it using lukewarm water.
Natural white sugar, moreover, is one of the best sources for curing such condition as it an ingredient which can be used to naturally exfoliate your skin hence, maximising efficiency.  All you need to do is prepare an instant sugar scrub using lemon juice and almond oil, gently scrub the affected areas for a few minutes every day for a month and watch the effectiveness take over. All in all, it even smells great!
Egg Whites, as we all know, are a phenomenal source of protein as they contain numerous types of protein and they are also high in amino acids. For this reason, it helps to cure marks by applying a fairly thick layer (which can be done using a make-up brush or tools alike).
Egg whites, unlike aloe vera, are to be washed with cold water instead of lukewarm. Furthermore, due to their composition, it is best if you finish off the application process by using either oil or moisturiser.
Oil
This leads to yet another effective method of treating those unceasing stretch marks; oil. Depending on the type of the oil chosen, they are beneficial for treating skin and hair problems. The wide array of natural oils are effective in their own way. However, it is, of course, logical to use the type, which will be the most effective for stretch marks. Amongst the variety of oil, the most effective ones are as follows:
Olive oil
Vitamin E oil
Castor Oil
Tea tree oil
Other oils such as lavender, chamomile, geranium etc.
These oils that are either abundant in nutrients, antioxidants or vitamins, should ideally be applied on the skin followed by a gentle massage. You can implement this strategy for approximately 30 minutes for three to four times a day for best results.
Potato juice and lemon juice
Lemon juice as well as potato juice are other excellent remedies that are really cheap and easy. While the super food i.e. potato comprises of essential complex compounds, lemon juice simply contains high amounts of beneficial vitamins thus, rendering both these juices effective in their own way.
You don't need to go through any tedious process to extract their juices rather, you need to cut the potato and/or lemon in fairly medium size and directly apply each piece individually, one after the other. Do this for a few minutes and wait until your skin has absorbed the juice. Then, after it has been completely absorbed, wash your skin with warm water.
Nonetheless, not everyone likes to use natural remedies because even though they are natural and thus safer, they take relatively longer to work compared to other alternatives. And this is where the role of creams, one of the most suitable alternatives, comes in.
Stretch Mark Removal Cream
Despite the fact that these creams come at a cost, they remain the most preferred alternative for removing stretch mark. How this method works is yet again simple. While the natural remedies provided a list of food items that contains certain ingredients such as vitamins, collagen etc., the creams are basically man-made products that include the same ingredients.
However, because these creams are manufactured, they are likely to be made using a combination of essential vitamins and compounds thus, drastically improving efficiency. Therefore, unlike home remedies, using one single product can provide you with all the ingredients that you need in order to successfully diminish those marks of yours. Consequently, the greater exposure you get to these beneficial compounds makes the entire process of achieving that smooth, scar free skin, significantly faster.
Additionally, the market for such products is not limited at all. You can choose the cream you think is the most suitable for your skin type from the array of brands that offer them.
In a nutshell, creams are basically the go-to method for removing stretch marks because unlike drugs, surgical treatments or home remedies, they give you faster, easier, and better results.