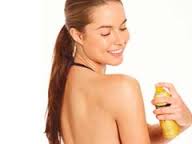 Who doesn't love a gorgeous tan? We all think we look better in the middle of summer, with our sun-kissed skin than at the end of winter when our skin is at its palest and most washed out. A great tan says "good health," "good times" and leisure. A fabulous tan makes you look like you just got back from a fabulous vacation – South Beach? Hawaii? Perhaps the Caribbean? We also think we look slimmer and sexier in our clothes with a tan. In addition to how great we look with a tan is the fun we have getting it.
Lying on the beach, sailing across a lake, biking in a summer day, or jamming to live music at an outdoor concert – we love the feel of the sun on our skin. In fact, being in the sun releases the brain chemical serotonin, a natural anti-depressant. So, in addition to enjoying what we do when we are in the sun, we are also chasing that natural high that the sun gives us.
Unfortunately, exposure to the sun's rays comes at a price. Sun exposure puts us at risk of skin cancer due to exposure to the UV radiation in sunlight. In fact, most skin cancers are directly related to exposure to the sun's harmful UV rays.
Many people mistakenly believe that the UV rays from the sun are the only cause of skin cancer and that they can't get skin cancer from using tanning beds. The American Cancer Society points out that like exposure to UV rays from the sun, exposure to UV radiation while using tanning beds or booths increases your risk of developing skin cancer. It is exposure to UV rays that creates the cancer risk, and it doesn't matter how you get that exposure.
So what can you do if you want that gorgeous tan but, you don't want the risks that go along with achieving it?
Wear sunscreen protection whenever you are out in the sun. Doctors recommend that you wear sunscreen every day. Look for a sunscreen with an SPF of at least 15, and remember that the higher the SPF, the more protection you are providing your skin.
Avoid heavy sun exposure between 10:00am and 3:00pm when the UV rays are at their strongest and can cause the most damage.
Wear protective clothing when outside. Long sleeves, pants or a long skirt, and a wide-brimmed hat will greatly reduce the amount of UV radiation to which you expose your skin.
While these steps will reduce your risk of exposure to the sun's harmful rays, the most effective solution is to limit the amount of time you spend in the sun. Given our innate love of the sun, this is easier said than done.
Many have turned to self-tanning products as a solution. The Mayo Clinic considers self-tanning to be a practical alternative to baking in the sun. Self-tanning products are considered safe and can give your skin that tanned look without the cancer risk associated with exposure to UV rays. These products are typically sold as lotions or sprays that you apply directly to your skin. Most of these products contain dihydroxyacetone, a color additive that temporarily darkens your skin. You generally must reapply the product every few days as the coloring is temporary and wears off over time.
Self-tanning products not only reduce your risk of skin cancer when you avoid the sun, they also take less time to achieve the desired results, making them a healthier and more convenient option for getting that tanned look.
If you decide to use self-tanners, you will need to decide if you want to use a lotion or a spray.
Both forms use the same active ingredient, DHA, but spray tanning does have some distinct advantages over lotions:
It is faster to apply than a lotion or gel.
It dries quicker than other self-tanning products, so you are less likely to transfer the color to your clothes, couch or bed after applying.
It's easier to apply to hard to reach spots like the back.
You can achieve more even application than lotions or gels.
Preparing Your Skin For Self-Tanning
Womens Health Magazine advises that you test a small part of your body first and that if you want to rock a nice tan for an event that you do a "test tan" a few weeks before. You'll see how well the self-tanner works for you and you'll have time to give yourself another treatment before the big event.
Take the following steps when applying a self-tanner for optimal results:
Exfoliate your skin and remove facial or body hair for even application.
Choose a color that is close to your own natural skin tone for a natural looking tan.
Wear gloves when applying the product to avoid staining the palms of your hands, which do not naturally tan.
Apply the sunless tanning product evenly over your entire body for a natural appearance. Wait 30 minutes to an hour before getting dressed so that you avoid staining your clothes with the product.
Continue to use a sunscreen when you go out as self-tanners usually have an SPF of less than 15.
Protect your bathroom surfaces by putting down a plastic tarp before applying.
Post Prep Steps After Self-Tanning
Minimize your contact with water after application of the product.
Wear loose fitting clothing the first day after tanning to prevent streaking in areas that fit snugly to your body.
Try to avoid wearing a bra after applying the product. If you must wear one, then wear it more loosely and consider wearing a strapless bra instead.
Wear long sleeves and long pants to bed and consider putting socks over your hands to prevent the newly applied color from transferring to your bed.
Moisturize your skin daily to help maintain a fresh looking, even tan.
Now that you know the advantages of self-tanning and how to apply it, you just have to pick the right product. The Idol Tan is a new product that you should consider. It contains 100% natural ingredients and is safe for use on all skin types. Idol Tan dries quickly and leaves your skin a natural bronze color. It is also more affordable than many other similar products on the market. They are currently running a free offer for one bottle on their website. If you act quickly, you can get in on the free offer before it expires. Just go to the Idol Tan website to place your order.